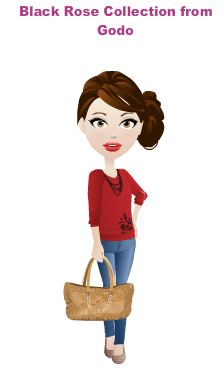 Black Rose is a Regular Collection. (CLOSED)
General Information:
Edit
The set consists of 4 items:
Lady Sweater (red)
Skinny Jeans (light wash)
Hawaiian Tote
Stud Flats (salmon)
The set has a total initial value of $214 and a total resale value of $257.
Requirements:
Edit
Black Rose was unlocked from the beginning.
Picture
Name
Price per Item
Profit per item (%)
Buy
Sell

Lady Sweater (red)
$55
$66
$11 (20%)

Skinny Jeans (light wash)
$50
$60
$10 (20%)

Hawaiian Tote
$79
$95
$16 (20%)

Stud Flats (salmon)
$30
$36
$6 (20%)