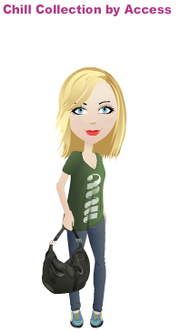 Chill Collection is a Regular set, by Access. (CLOSED)
General Information:
Edit
The set consists of 4 items:
Skinny Jeans (medium wash)
Day Sneakers (blue/yellow)
The set has a total initial value of $218 and a total resale value of $262.
Requirements:
Edit
Chill Collection can only be unlocked at level <insert level>, for <price> Mall Dollars.
Picture
Name
Price per Item
Profit per item (%)
Buy
Sell

Relax T-Shirt (green)
$25
$30
$5 (20%)

Skinny Jeans (medium wash)
$5
$6
$1 (20%)

Grey Leather Hobo
$49
$59
$10 (20%)

Day Sneakers (blue/yellow)
$139
$167
$28 (20%)