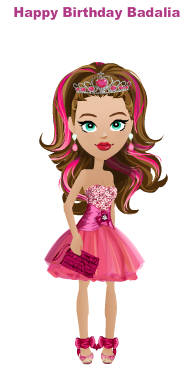 Happy Birthday Badalia is the most controversial Regular Collection in Mall World history, known for a $6 total and claiming to be very cheap. This collection celebrates the birthday of Badalia Madison, the antagonist in Mall World.
In December 2015 during the "Purple Charm" celebration in Mall World's Wheel of Fashion game, some players were angered over the prize of Teardrop Earrings and Ruffle Purse, in which according to them, will have a $1-2 total when sell them to their own stores. Mall World has no statement in this controversy but they will resolve the issue on the Wheel of Fashion game in the next few days.
General Information:
Edit
The set consists of 6 items:
Birthday Crown
Birthday Wig
Teardrop Earrings
Pink Birthday Dress
Ruffle Purse
Birthday Shoes
This set has a controversial value of $6.
Requirements:
Edit
Happy Birthday Badalia can be unlocked at Level 2, for 1 Mall Dollar.
Picture
Name
Price per Item
Profit per item (%)
Buy
Sell

Birthday Crown
$1
$1
$0 (0%)

Birthday Wig
$1
$1
$0 (0%)

Teardrop Earrings
$1
$1
$0 (0%)

Pink Birthday Dress
1
$1
$0 (0%)

Ruffle Purse
$1
$1
$0 (0%)

Birthday Shoes
$1
$1
$0 (0%)