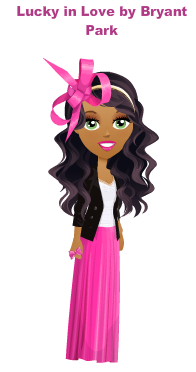 Lucky in Love is a Regular Collection, by Bryant Park.
General Information:
Edit
The set consists of 5 items:
Perfect Present Headband
Basic Blazer
Lacey White Tank
Pretty in Pink Maxi Skirt
Pink Bow Ring

The set has a total initial value of $1,144 and a total resale value of $1,373.
Requirements:
Edit
Lucky in Love is unlocked from the beginning.
Picture
Name
Price per Item
Profit per item (%)
Buy
Sell

Perfect Present Headband
$199
$239
$40 (20%)

Basic Blazer
$275
$330
$55 (20%)

Lacey White Tank
$150
$180
$30 (20%)

Pretty in Pink Maxi Skirt
$495
$505
$100 (20.2%)

Pink Bow Ring
$25
$30
$5 (20%)