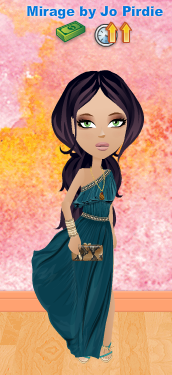 Mirage by Jo Pirdie, is one of the few Premium Collections that can be unlocked without Mall Credits. Items in this collection sell the fastest of all items at the same price, but have lower profit.
The set consists of 5 items:
Tiger's Eye Necklace
Desert Dream Gown
Distressed Metal Cuff
Python Print Clutch
Ankle Toe Stilettos
Requirements:
Edit
Mirage can be unlocked at any level, for $500,000. 
Picture
Name
Price per Item
Profit (%)
Buy
Sell

Tiger's Eye Necklace
$35,000
$36,750
$1,750 (5%)

Desert Dream Gown
$100,000
$104,000
$4,000 (4%)

Distressed Metal Cuff
$50,000
$52,000
$2,000 (4%)

Python Print Clutch
$45,000
$47,025
$2,025 (4.5%)

Ankle Tie Stilettos
$50,000
$52,000
$2,000 (4%)