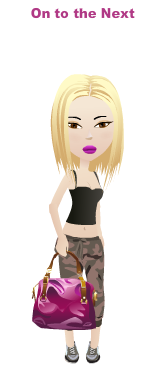 On to the Next is a controversial Regular set.
On to the Next is somewhat controversial, that is because the design was inspired by Afghanistan.
General Information:
Edit
The set consists of 4 items:
Bustier Corset Top
Camouflage Pants
Fuchsia Glossy Handbag
Grey Trainers
The set has a total initial value of $268 and a total resale value of $322.
Requirements:
Edit
On to the Next can only be unlocked at level 4, for 300 Mall Dollars. Items:
Picture
Name
Price per Item
Profit per item (%)
Buy
Sell

Bustier Corset Top
$59
$71
$11 (20%)

Camouflage Pants
$59
$71
$11 (20%)

Fuchsia Glossy Handbag
$50
$60
$10 (20%)

Grey Trainers
$100
$120
$20 (20%)