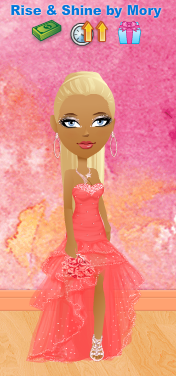 Rise & Shine is a Premium set, by Mory.
General Information:
Edit
Items in this collection sell the fastest of all items at the same price, but have lower profit.
The set consists of 5 items:
Hoop Earrings
Shooting Star Necklace
Rise & Shine Dress
Ruffled Clutch
Stone StilettoS
The set has a total initial value of $60,500 and a total resale value of $67,890.
Requirements:
Edit
Rise & Shine can be unlocked at any level, for 23 Mall Credits.
Picture
Name
Price per item
Profit per Item (%)
Buy
Sell

Hoop Earrings

$8,000

$9,120

$1,120 (14%)

Shooting Star Necklace
$8,500
$9,690
$1,190 (14%)

Rise & Shine Dress

$27,000

$29,700

$2,700 (10%)

Ruffled Clutch
$8,500
$9,690
$1,190 (14%)

Stone Stilettos

$8,500

$9,690

$1,190 (14%)