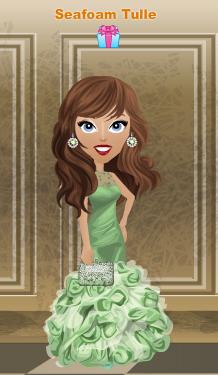 Seafome Tulle is a VIP Collection.
General Information:
Edit
The set consists of 4 items:
Seafoam Gown

Seafoam Sparkle Clutch

Seafoam Sparkle Earrings

Seafoam Maryjane Heels

The set has a total initial value of $43,000 and a total resale value of $51,600.
Requirements:
Edit
Seafoam Tulle can be unlocked at any level, for <price> Mall Credits.
Picture
Name
Price per Item
Profit per item (%)
Buy
Sell

Seafoam Gown
14,000
16,800
2,800   (20%)

Seafoam Sparkle Clutch
10,500
12,600
2,100   (20%)

Seafoam Sparkle Earrings
9,500
11,400
1,900   (20%)

Seafoam Maryjane Heels
9,000
10,800
1,800   (20%)
References:
Edit