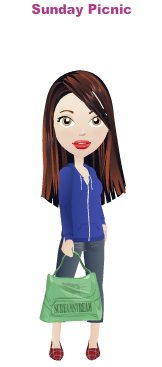 Sunday Picnic is a Regular Collection.
General Information:
Edit
The set consists of 4 items:
The Hoodie (blue)
Capri Jeans (medium wash)
Stream Sports Bag
Plaid Pointy Toe Flats
The set has a total initial value of $267 and a total resale value of $321.
Requirements:
Edit
Sunday Picnic can be unlocked at Level 2, for 200 Mall Dollars.
Picture
Name
Price per Item
Profit per item (%)
Buy
Sell

The Hoodie (blue)
$50
$60
$10 (20%)

Capri Jeans (medium wash)
$68
$82
$14 (20.5%)

Stream Sports Bag
$100
$120
$20 (20%)

Plaid Pointy Toe Flats
$49
$59
$10 (20.4%)