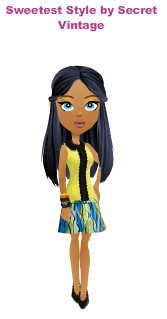 Sweetest Style is a Regular Collection, by Secret Vintage. (CLOSED)
General Information:
Edit
The set consists of 4 items:
Lace Trimmed Tank
River Skirt
Bold Bangle Set
Scalloped Flats
The set has a total initial value of $700 and a total resale value of $840.
Requirements:
Edit
Sweetest Style was unlocked from the beginning.
Picture
Name
Price per Item
Profit per item (%)
Buy
Sell

Lace Trimmed Tank
$175
$210
$35 (20%)

River Skirt
$300
$360
$60 (20%)

Bold Bangle Set
$75
$90
$15 (20%)

Scalloped Flats
$150
$180
$30 (20%)